IF YOU'RE SEEING THIS MESSAGE, THAT MEANS GREAT NEWS! THE STORE IS CURRENTLY OPEN FOR A SHORT PERIOD OF TIME AND ORDERS CAN BE PLACED.
(Regular maintenance work is being done on the website and because of this work, the store needs to be open. This means you can add items to your shopping cart, checkout and place an order. It will only be open for a short time while the work is being done.) Details below.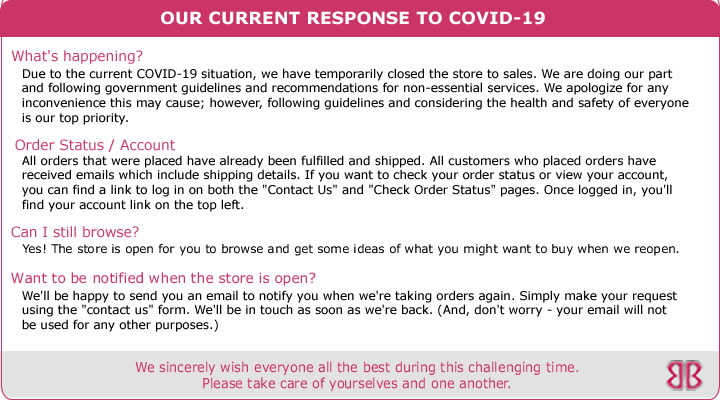 SHIPPING METHOD UPDATE:
All packages are now shipped with tracking within USA and Canada. This is in response to the occasional mail delays caused by the global pandemic. During these uncertain times, we feel it important that our customers have the assurance of always being able to track the progress of their packages.
Previously, packages have always shipped using the most economical method possible in order to save customers money on shipping charges. We are pleased to now provide this shipping upgrade within North America to include tracking however we are sorry for any inconvenience the resulting increase in shipping cost may cause. We value your business and appreciate your understanding during this unusual times.
INTERNATIONAL CUSTOMERS (outside USA and Canada): Please see
International Shipping
for more information on how to order.